Bara Vacuum (バラバキューム, Bara Bakyūmu?) is a vacuum-theme Machine Beast of the Machine Empire Baranoia
Character History
A Machine Beast brought in by Buldont to acquire Yuji's Power Brace from Seiji Kurado, able to suck people up into his vacuum-like tube. and use his machine forearm. After sucking Yuji in, Bara Vacuum goes after the Power Brace in a keep away until he sucks Oh Red in with the Power Brace. Once Yuji gets his Power Brace back, he and Oh Red get out and fight Bara Vacuum before the Ohrangers finish him off with the Giant Roller. Once revitalize by Kocha, Bara Vacuum, Ohranger Robo uses Graviton Head formation before destroying him with the Crown Final Crash.
A second Bara Vacuum was built to take part in Baranoia's "Magma Enhancement" project, but was destroyed due to the Ohranger's "Trojan Horse" tactic with the Blocker Robo.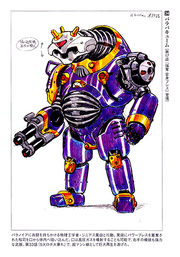 Personality
to be added
Arsenal
It's main ability is the ability to suck in people with a vacuum-like tube on its head and use a machine-like arm as a weapon
Behind the Scenes
Portrayal
Notes
See also
References
Ad blocker interference detected!
Wikia is a free-to-use site that makes money from advertising. We have a modified experience for viewers using ad blockers

Wikia is not accessible if you've made further modifications. Remove the custom ad blocker rule(s) and the page will load as expected.