Bara Saucer (バラソーサー, Bara Sōsā?) is a saucer-themed Machine Beast of the Machine Empire Baranoia
Character History
A giant Machine Beast that could attack with tentacle arms, using them to bind and shock enemies. It was the first giant monster the Ohrangers encountered and as such, caused quite the problem for them. However, using massive amounts of teamwork with their new weapons, the Ohrangers hacked apart Bara Saucer and finished it with the newly formed Big Bang Buster.Ep. 2: Assemble!! The Super-Powered Sentai
A second Bara Saucer was built as part of Bacchus Wrath's "Magma Enhancement" plan; empowered with a special magma coating, it became more powerful and started to be used to search out for Earth dissenters after Bara Drill's previous rampage. When the Ohranger destroy the Baranoia Earth base with their new Blocker Robo, it fought and was destroyed by Blue Blocker.Ep. 33: The Five Robos' Great Riot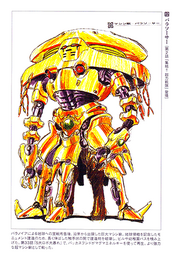 Personality
to be added
Arsenal
Its main abilities are giant tentacle-like arms that attack and grab objects at random, binding and shocking enemies. A second version is granted a strengthening magma armor to protect it and make it more powerful.
Behind the Scenes
Portrayal
Notes
See Also
References
Ad blocker interference detected!
Wikia is a free-to-use site that makes money from advertising. We have a modified experience for viewers using ad blockers

Wikia is not accessible if you've made further modifications. Remove the custom ad blocker rule(s) and the page will load as expected.