Bara Goblin (バラゴブリン, Bara Goburin?) is a goblin-theme Machine Beast of the Machine Empire Baranoia under Machine Beast Tamer Keris
Character History
A Machine Beast kept in a cage by Keris as a pet, she summons Bara Goblin to handle Oh Blue, Oh Yellow, and Oh Pink while attempting to kill Dorin. But before he can get to Dorin, Riki arrives to save her. Becoming King Ranger, he uses King Victory Flash to defeats Bara Goblin before Kocha enlarges him. After overpowering Ohranger Robo and RedPuncher, Bara Goblin is easily destroyed by King Pyramider's Super Burn Wave.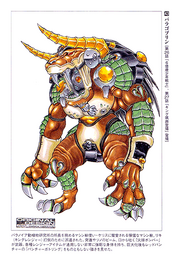 Personality
to be added
Arsenal
It's main power is its strength, which it uses for combat.
Behind the Scenes
Portrayal
Notes
See also
References
Ad blocker interference detected!
Wikia is a free-to-use site that makes money from advertising. We have a modified experience for viewers using ad blockers

Wikia is not accessible if you've made further modifications. Remove the custom ad blocker rule(s) and the page will load as expected.