Bandora Gang
Talk

0
9,788pages on
this wiki
Category page | Redirected from Bandora Gang

The Bandora Gang (バンドーラ一味, Bandōra Ichimi) are Witch Bandora's forces and apparently Earthly in origin as part of ancient mankind. They are merciless (but hilarious) minions of darkness who were sealed away on the planet Nemesis. for causing evil to mankind. They are released thanks to the carelessness of two astronauts.
Bandora and her minions were located at the Bandora Palace, which was on the moon. Though their intent was making Earth a wasteland, they also caused mischief for the Zyurangers until they were sealed again in the finale.
History
to be added
Video Game appearances
Zyuranger video game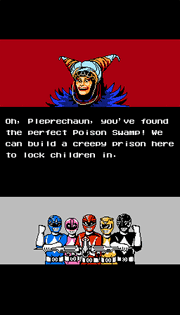 The Bandora Gang appear as the villains of the Kyoryu Sentai Zyuranger video game. It is a side-scrolling action game in which the player takes control of a different Zyurangers in each of the game's five stages. At the end of each stage, the player will confront one of the main villains from the show. The villains faced are Pleprechuan, Tottpatt & Bookback, Grifforzer, and Bandora herself.
Between stages, the player will be challenged to one of three possible minigames by Burai the Dragonranger. These consist of a trivia game where Bandora will ask the player a question related to the TV series, a Pong-style game between DaiZyujin and the Dragon Caesar, and a hot potato-style game between Gōryūzin and Lamie.

See Also
This category currently contains no pages or media.