Bammers (バマース)
Character History
A hammer-themed Majin. He tried to build a pacemaker for Daitanix, out of glass. Said glass was to be stolen and smashed, in order to be rebuilt as a pacemaker. He is killed by Super Armor Shine Gingaioh after being thrashed by Steel Starbeast GigaRhinos and again by the Megarangers in Seijuu Sentai Gingaman vs. Megaranger.
Personality
to be added
Modus and Arsenal
Notes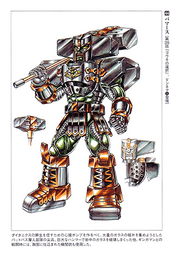 Portrayal
Behind the Scenes
Conception
References
Ad blocker interference detected!
Wikia is a free-to-use site that makes money from advertising. We have a modified experience for viewers using ad blockers

Wikia is not accessible if you've made further modifications. Remove the custom ad blocker rule(s) and the page will load as expected.