Bakuryuu Sentai Abaranger DELUXE: Abare Summer is Freezing Cold
Talk

0
Share
Bakuryuu Sentai Abaranger DELUXE: Abare Summer is Freezing Cold (爆竜戦隊アバレンジャー DELUXE アバレサマーはキンキン中!, Bakuryū Sentai Abarenjā Derakkusu Abare Samā wa Kikin Chū) is the main theatrical release for Bakuryuu Sentai Abaranger.
Plot
to be added
Characters
Abarangers
Villains
Invasion Garden Evolien
Evil Mecha
Others
Continuity and Placement
This easily fits in between the events of episodes 21 and 22 of Abaranger as this is after Bakuryuu Ankyloveilus's introduction, but before AbareKiller kidnaps Bakuryuu Bachycelonagurus and Bakuryuu Dimenokodon.
Notes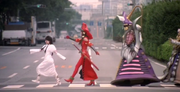 See Also
Ad blocker interference detected!
Wikia is a free-to-use site that makes money from advertising. We have a modified experience for viewers using ad blockers

Wikia is not accessible if you've made further modifications. Remove the custom ad blocker rule(s) and the page will load as expected.