description to be added
Character History
Bowzock's best gardener. His best attack is sowing seeds onto his opponents that wrapped them in vines. These vines would sprout flowers that would attract Space Bees that sting them to death. After almost all of the bees were destroyed, Koiya gave his remaining Space Bee a piece of his Imo-youkan, which he ate some of as well. While the bee was killed by Sirender, Koiya was killed by VRV Robo.
Personality
to be added
Modus and Arsenal
Notes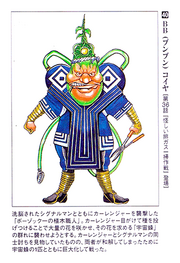 Portrayal
Behind the Scenes
See Also
References
Ad blocker interference detected!
Wikia is a free-to-use site that makes money from advertising. We have a modified experience for viewers using ad blockers

Wikia is not accessible if you've made further modifications. Remove the custom ad blocker rule(s) and the page will load as expected.