Aurico
Talk

0
9,866pages on
this wiki
Aurico is the Red Aquitar Ranger. He is an Aquitian that requires waters of Aquitar in order to live.
Character History
While officially Delphine is the leader of the team, as Red Ranger, Aurico often figures in front of formations. He pilots the Red Battle Borg and, during his stay on Earth, the Red Shogunzord as well when the original pilot could not.
Alien Rangers
In Zeo, he transmitted the message from Aquitar to Earth, claiming that he and the other two Alien Rangers were standing by to offer their services at the first sign of trouble. This was the last time Aurico appeared in his civilian form.
Aurico was last seen teaming with Eric Myers during Power Rangers: Wild Force, on the episode Forever Red, as one of the ten Red Rangers that attacked the remnants of the Machine Empire on the moon as they attempted to reactivate Serpentera. Aurico's actor, David Bacon, was not available for the role, so Aurico never appeared unmorphed, and was voiced by Christopher Glenn. Also, the actor's voice was noticably different from David Bacon if one puts the two side-by-side.
Red Aquitian Ranger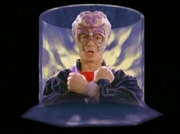 Zords
Arsenal
Notes
Aurico is the only Red Ranger not played by his original actor at anytime in Forever Red.
Aurico is the second Red Ranger not to be a leader after Rocky DeSantos, and followed by Wes Collins in Time Force.
See Also