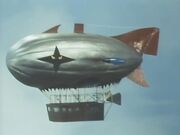 Atlantis was used to refer to a legendary airship which sank the mythological city of the same name. It was pursued by the Black Cross Army in an operation spearheaded by Iron Man Mask General Temujin when he arrived to take command of the organization's operations in Japan. Intending to capture it and use it to sink the islands of Japan, he was aided by a succession of three Masked Monsters, (Shot Mask, Gear Mask, and Wire Mask) and opposed by EAGLE's Gorengers. Ep. 21: Blue Miracle! The Mysterious Airship That Came From Antiquity Ep. 22: Yellow Air Raid! Nightmares of Atlantis Ep. 23: Green Dogfight! The End of the Mysterious Airship
Ad blocker interference detected!
Wikia is a free-to-use site that makes money from advertising. We have a modified experience for viewers using ad blockers

Wikia is not accessible if you've made further modifications. Remove the custom ad blocker rule(s) and the page will load as expected.