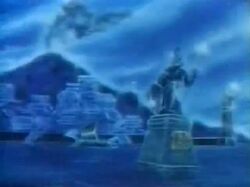 Atlantis is a legendary island most notably utilized by the philosopher Plato. Though it's location is unknown (usually located either within the Mediterranean Sea or the Atlantic Ocean), it is notable for being an advanced civilization who were torn apart by war and destruction before sinking into oblivion.
Atlantis has been a notable location both within Super Sentai and Power Ranger series:
Ad blocker interference detected!
Wikia is a free-to-use site that makes money from advertising. We have a modified experience for viewers using ad blockers

Wikia is not accessible if you've made further modifications. Remove the custom ad blocker rule(s) and the page will load as expected.