Arsenal (Gorenger)
Talk

0
8,991pages on
this wiki
This page lists all the weapons, devices, and vehicles used by the Gorengers. Below is the inventory, which also reflects on the Gorenger series page as well as the team page of the Gorengers.
Weapons
Birdies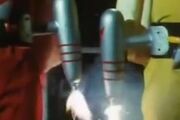 The Gorengers each had removable rockets named Birdies on the side of their belts for flying, and they can pull out a visor, which turns into their respective weapon.
Akarenger
Red Bute (レッドビュート, Reddo Byūto) / New Red Bute (ニューレッドビュート, Nyū Reddo Byūto)

Spear Bute (ヤリビュート, Yari Byūto)
Drill Bute (ドリルビュート, Doriru Byūto)
Red Hunter (レッドハンター, Reddo Hantā)

Silver Shot (シルバーショット, Shirubā Shotto)
Aorenger
Blue Cherry (ブルーチェリー, Burū Cherī) / Ultra Blue Cherry (ウルトラブルーチェリー, Urutora Burū Cherī)
Kirenger
YTC (YTC, Wai Tī Shī) Radio
Ki Sticker (キーステッカー, Kī Sutekkā)

Rock attachment
Paper attachment
Scissors attachment
Momorenger
Momo Mirror (モモミラー, Momo Mirā)
Momo Card (モモカード, Momo Kādo)
Earring Bombs (ピアス爆弾, Piasu Bakudan)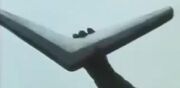 Midorenger
Mido Puncher (ミドパンチャー, Mido Panchā)
Midomerang (ミドメラン, Midomeran) / New Midomerang (ニューミドメラン, Nyū Midomeran)
Gorenger Storm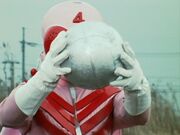 Gorenger Storm
- At Akarenger's command, Momorenger would produce a silver ball. It was passed among the various Rangers like a soccer ball, until Akarenger would kick it at the episode's monster, at which point it would cause the monster to explode.
Gorenger Hurricane - In this variant, Momorenger would produce a finned, multicolored grenade the size and shape of an American-style football. It was again passed among each Ranger until Aorenger set it up for punting by Akarenger. Once launched towards the monster, it would transform into an object that was usually either anathema to the monster's personality (such as a magnet to disrupt a mechanical clock monster) or a gift (such as a bowl of ramen to a skeleton-themed, starving monster). Both object and monster would then explode.
Vehicles
Red, Blue, and Green Machines
Red, Blue, and Green Machines (1-54) - The motorcycles driven by Akarenger, Aorenger, and Midorenger. Kirenger and Momorenger ride in the sidecars of the Blue and Green Machines; the Red Machine has no sidecar. Armed with explosives and sent to the Navarone Fortress, which exploded, taking them (but not the Gorengers) with it.
Red, Blue, and Green Stars (55-84) - The replacements for the Red, Blue, and Green Machines.
Varitank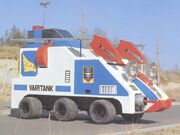 Varitank (43-84) - Six-wheeled tank with claw arms that rolls out of the 'beak' of the Varidreen.
Variccune
Variccune (69-84) - A passenger-carrying balloon for the Gorengers.
Inventory
Weapons and Attacks
Birdies

(New) Red Bute

Spear Bute
Drill Bute
Red Hunter

Silver Shot
(Ultra) Blue Cherry
YTC Radio
Ki Sticker
Momo Mirror
Momo Card
Earring Bombs
Mido Puncher
(New) Midomerang

Gorenger Storm / Gorenger Hurricane
Vehicles
This category currently contains no pages or media.