Arsenal (Denziman)
Talk

0
9,852pages on
this wiki


The following is a list of all the weapons, vehicles, and Mecha in the Denziman arsenal.
Denzi Ring
Denzi Ring (デンジリング, Denji Ringu): The Denzimen's transformation device. The transformation call is "Denzi Spark!" (デンジスパーク, Denji Supāku).
Weapons
Denzi Stick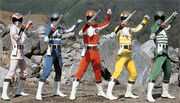 Denzi Stick
(デンジスティック,
Denji Sutikku
): Each Denjiman is armed with a Denzi Stick. These combine into the Denziboomerang and are all used in the Electronic Lightning Fall. Other team attacks, not involving the sticks, include the Shot Gun, Blitzkrieg Attack, Denzi Circle, Denzi Shower, Dragonfly, Scramble Chain, and Denzi Tower.
Mecha
Denzi Tiger
Denzi Tiger (デンジタイガー, Denji Taigā): The flying fortress carrying the Denji Fighter that launches from Denzi Land (デンジランド, Denji Rando), the island headquarters.
DaiDenzin
DaiDenzin (ダイデンジン, Daidenjin, Giant Electric Man, Big Electroid, or Great Electronic God): Denzimans' robot that transforms from an airship called the Denzi Fighter (デンジファイター, Denji Faitā). The Denzi Fighter nose becomes DaiDenzin's back, the sides of the underside become the chest, and the lateral sides become the legs. Its main weapon is the Denzi Sword (デンジ剣, Denji Ken) and it destroys monsters with its finishing attack, the Electronic Full-Moon Cut (電子満月斬り, Denshi Mangetsu Giri). Its other weapons are the Denzi Ball (デンジボール, Denji Bōru) and DaiDenzin Boomerang (ダイデンジンブーメラン, Daidenjin Būmeran, Great Electric Man Boomerang).
Vehicles and other Miscellany
Denzi Machine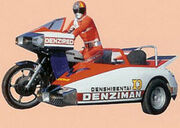 Denzi Machine
(デンジマシーン,
Denji Mashīn
): DenziRed's motorbike with sidecar.
Denji Buggy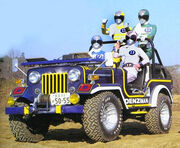 Denzi Buggy
(デンジバギー,
Denji Bagī
): Jeep for the other four Denziman.
Denzi Crafts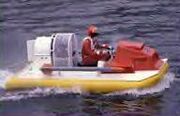 Denzi Crafts
(デンジクラフト,
Denji Kurafuto
): Each Denziman had an airboat.
Denzi Shooter
Denzi Shooter (デンジ射手, Denji Shoota): Underground transporter that can travel from the Athletic Club to Denzi Land.