Arsenal (Denziman)
Talk

0
8,976pages on
this wiki
This page lists all the weapons, devices, and vehicles used by the Denzimen. Below is the inventory, which also reflects on the Denziman series page as well as the team page of the Denzimen.
Transformation Devices
Denzi Ring
Denzi Ring (デンジリング, Denji Ringu): The Denzimen's transformation device. The transformation call is "Denzi Spark!" (デンジスパーク, Denji Supāku).
Sidearms
Denzi Stick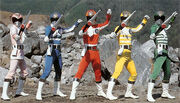 Denzi Stick
(デンジスティック,
Denji Sutikku
): Each Denjiman is armed with a Denzi Stick. These combine into the Denziboomerang and are all used in the Electronic Lightning Fall.
Other Attacks
Other team attacks, not involving the sticks, include the Shot Gun, Blitzkrieg Attack, Denzi Circle, Denzi Shower, Dragonfly, Scramble Chain, and Denzi Tower.
Vehicles
Denzi Machine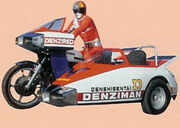 Denzi Machine
(デンジマシーン,
Denji Mashīn
): DenziRed's motorbike with sidecar.
Denji Buggy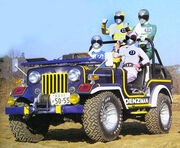 Denzi Buggy
(デンジバギー,
Denji Bagī
): Jeep for the other four Denziman.
Denzi Crafts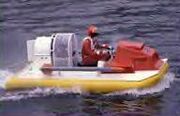 Denzi Crafts
(デンジクラフト,
Denji Kurafuto
): Each Denziman had an airboat.
Denzi Shooter
Denzi Shooter (デンジ射手, Denji Shoota): Underground transporter that can travel from the Athletic Club to Denzi Land.
Inventory
Transformation Devices
Sidearms
Vehicles
Denzi Machine
Denzi Buggy
Denzi Crafts
This category currently contains no pages or media.