Arms Smuggler Hammer (武器密売人・ハマー, Buki Mitsubainin Hamā?, 29): A weapons-user released by Gien to track down the time pulse being emitting from the V-Commander. He battled the Timerangers, while the Zenits tracked down the V-Rex's control device. Naoto gained the device before the Londerz could, becoming TimeFire for the first time and using his DV Freezer ability to bring Hammer into custody.
Character History
to be added
Personality
to be added
Powers and Abilities
Arsenal
Behind the Scenes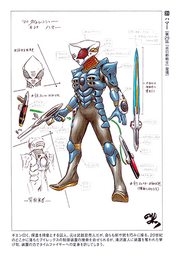 Portrayal
Notes
See Also
Ad blocker interference detected!
Wikia is a free-to-use site that makes money from advertising. We have a modified experience for viewers using ad blockers

Wikia is not accessible if you've made further modifications. Remove the custom ad blocker rule(s) and the page will load as expected.