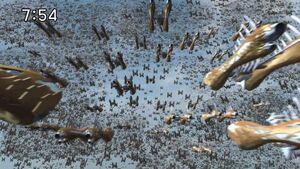 The Armada Warships make up the vast majority of The Armada. They each house a platoon of XBorgs and are the standard spacecrafts that make up most of the massive military strength of the royal empire.
Millions of Armada Warships were seen attacking when the Armada launched its invasion of Earth.Super Megaforce (episode)
Ad blocker interference detected!
Wikia is a free-to-use site that makes money from advertising. We have a modified experience for viewers using ad blockers

Wikia is not accessible if you've made further modifications. Remove the custom ad blocker rule(s) and the page will load as expected.