Ant Bazooka (アリバズーカ Aribazūka?) (36): The result of Tran's Bio Dimensional Bug with ant DNA fusing unto a bazooka, Ant Bazooka assumes the form of a swarm of ants that enter humans and turn them unto ravenous gluttons under Tran's control with Kaori among them. However, reforming on Tran's command and enlarging, this monster was destroyed by Jet Garuda.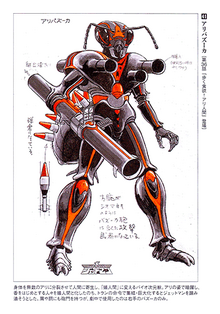 Ad blocker interference detected!
Wikia is a free-to-use site that makes money from advertising. We have a modified experience for viewers using ad blockers

Wikia is not accessible if you've made further modifications. Remove the custom ad blocker rule(s) and the page will load as expected.