Character History
Animal Tamer Org (猛獣使いオルグ, Mōjūtsukai Orugu?, 38, 42): An Org who refers to himself as a master beast tamer, recruited by the Duke Orgs at northern Kanto for his abilities, so Yabaiba can avenge his brother's death. Once force-fed Org Seeds, he succeeds in taking control of GaoKing, GaoMuscle Striker, GaoElephant, GaoDeers, and GaoGiraffe, with GaoHunter Justice immune. Futaro arrived in time to free GaoKing Sword and Shield and GaoMuscle Striker from Animal Tamer Org's control, who uses their attacks to destroy his control whip. The Gaorangers than summon GaoIcarus to finish the Org off.
Personality
to be added
Modus and Arsenal
Notes
Conception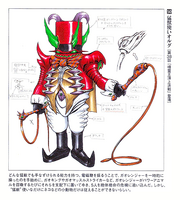 Portrayal
Behind the Scenes
See Also
References
Ad blocker interference detected!
Wikia is a free-to-use site that makes money from advertising. We have a modified experience for viewers using ad blockers

Wikia is not accessible if you've made further modifications. Remove the custom ad blocker rule(s) and the page will load as expected.