description to be added
Character History
This Nezire Beast could turn people into stone with the antennae on his head. He was sent to absorb his younger sibling Komutan on Earth (who'd been befriend by Kenta) to reach his full potential and power which gave him the ability to turn things into diamond. Though Komutan broke free from him, Anglerfish Nezire kills him in response, angering Kenta as a result and brings him down with his Battle Riser. Killed by Super Galaxy Mega.
Personality
to be added
Modus and Arsenal
Notes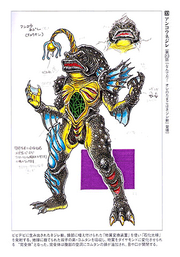 Portrayal
Conception
Behind the Scenes
Gallery
See Also
References
Ad blocker interference detected!
Wikia is a free-to-use site that makes money from advertising. We have a modified experience for viewers using ad blockers

Wikia is not accessible if you've made further modifications. Remove the custom ad blocker rule(s) and the page will load as expected.