Amy Yuuzuki
Talk

7
8,955pages on
this wiki

"The Horned Brave, Kyoryu Pink!"
Amy Yuuzuki (アミィ結月, Ami Yūzuki) is Kyoryu Pink (キョウリュウピンク, Kyōryū Pinku) of the Kyoryugers.
Biography
An 18-year-old College Student. Defeated ZyuDenRyu Dorikera while in America, and became a warrior, gaining its' power. A cheerful, "High Kick Girl", she declares herself the "Horned Heroine" (角の勇者, Tsuno no Yūsha). Specializes in Hand-to-Hand combat. She is from America, studying abroad, and is the daughter of a wealthy family. A butler known as "Gentle" is taking care of her in her current accommodations.[1]
Super Hero Taisen Z
The Kyoryugers joined the action as the current Sentai team in Kamen Rider × Super Sentai × Space Sheriff: Super Hero Taisen Z.
Super Hero Taisen Otsu
to be added Kamen Rider × Super Sentai × Space Sheriff: Super Hero Taisen Otsu: Heroo! Answers
Kyoryu Pink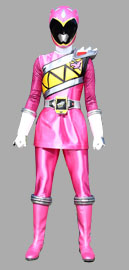 Arsenal
Gabrevolver: Transformation device and gun-weapon.
GabriCalibur: Main sword weapon that can combine with the Gabrevolver.
Mobuckle: Beast Battery storing belt and communicator.
Beast Battery #5 - Dricera: Main battery-like device that is the source of Amy's power
DriceLance
Mecha
Personality
When they were captured, Amy revealed to Souji that she can work a remote control with her feet, an ability that she uses to free Souji and herself. Brave 10: Zander! Gold Revives
Amy can also ride a unicycle, as seen when she borrowed one to defeat a group of Zorima, without becoming Kyoryu Pink. Brave 11: Utchi! How Cool
Imitations
A Zorima was disguised as Kyoryu Pink by Debo Yakigonte as part of a plot to break the Kyoryugers up. Brave 7: Angry! Daigo's in Big Trouble
Behind the scenes
Portrayal
Amy Yuuzuki is portrayed by Ayuri Konno (今野 鮎莉, Konno Ayuri?).[2][3][4] As Kyoryu Pink, her suit actor is Mizuho Nogawa (野川 瑞穂, Nogawa Mizuho?).
Sentai Notes
Amy is the first female in a dinosaur-themed Sentai group to not to have the Pterosaur motif.

She is also the first non-blue member of a dinosaur-themed Sentai-group to have the Triceratops motif.

Amy is the first Sentai hero to arrive from the United States since Ryouga Hakua and the first female since Maria Nagisa.
She mirrors Kaori Rokumeikan/White Swan as they both live with their respective butlers, and their respective parents lives in the US.

The previous pink, Ahim de Famille/Gokai Pink, also had a butler as she was the princess of the planet Famille. Ironically, Amy acts like a normal teenage girl, disregarding her status, and has to be urged by Gentle to speak in a more formal tone similar to Ahim's.
References