Algolian Volka (アルゴル星人ヴォルガー, Arugoru Seijin Vorugā?): Leader of the Algolians.
Character History
He easily damaged DekaGold's license, intimidating her to help him when his lackeys lost the virus to the Dekarangers. When she has second thoughts, he infected her with Golden Snow to be its carrier on Earth. After his minions are deleted and he is defeated by Ban, Volka returned to Leslie to pilot a Heavy Industrial Machine Killer Tank with intent on destroying Earth. Deleted by Dekaranger Robo Full Blast Custom.
Arsenal
Like Ban he also uses the Juukundo fighting style.
Notes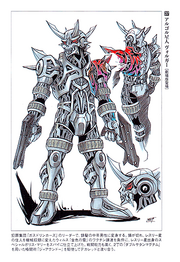 Portrayal
Behind the Scenes
References
Ad blocker interference detected!
Wikia is a free-to-use site that makes money from advertising. We have a modified experience for viewers using ad blockers

Wikia is not accessible if you've made further modifications. Remove the custom ad blocker rule(s) and the page will load as expected.