Ad blocker interference detected!
Wikia is a free-to-use site that makes money from advertising. We have a modified experience for viewers using ad blockers

Wikia is not accessible if you've made further modifications. Remove the custom ad blocker rule(s) and the page will load as expected.
Advanced Yokai Oumukade (上級妖怪オオムカデ , Jōkyū Yōkai Ōmukade?) is a Youkai born from two Corrupted Sealing Shuriken imbuing a power strip with severed plugs.
Character History
to be added
Oumukade's likeness appeared among a set of Yokai karuta cards assembled by Shurikenger for the Ninningers to analyze the Yokai they had defeated so far. Due to Yokai Fudagaeshi's dark art Karuta Dance, Oumukade was one of six illusionary Yokai which manifested from their respective karuta cards in the Igasaki Ninjutsu Dojo. The illusionary Oumukade was subsequently destroyed by AoNinger's Gama Gama Gun. Shinobi 43: The Legendary Ninja! Yokai Karuta Tactics
Personality
to be added
Profile
Infection object: Power strip
Favorite things: Electricity
Favorite place: Labyrinth
Attack power: 4/5
Mysterious trick: 2/5
Bear Hug: 5/5
Arsenal
Behind the Scenes
Portrayal
Notes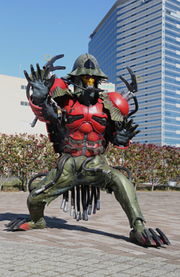 Advanced Yokai Oumukade's costume reuses elements of the Yokai Kappa's costume.
Appearances
See also
External links

Shuriken Sentai Ninninger
Ninningers
AkaNinger - AoNinger - KiNinger - ShiroNinger - MomoNinger - StarNinger - MidoNinger
Igasaki Clan
Takaharu Igasaki - Yakumo Katou - Nagi Matsuo - Fuuka Igasaki - Kasumi Momochi
---
Apprentice/s: Kyuemon Izayoi (defected) - Kinji Takigawa - Luna Kokonoe
---
Other family members: Tsumuji Igasaki - Harukaze Katou - Sakurako Igasaki
---
Last Ninja: Yoshitaka Igasaki
Gear:
Transformation Ninja Sword Ninja Ichibantou - Transformation Device Ninja StarBurger - Chozetsu Shoubu Changer - Strongest Ninja Sword Ninja Gekiatsuto - Nin Shuriken - Midan Ningeki Karakuri Hengen - Gama Gama Gun - Star Sword-Gun
Allies:
Shishi-Oh - Tetsunosuke Saika XXII - Tatsunosuke Hakkaku - Kikyo Kousaka - Drive Driver

- Kiriko Shijima

- Jun Honganji

- Rinna Sawagami

- Kyu Saijo

- Genpachiro Otta

Shinnosuke Tomari

- Go Shijima

- Yousuke Shiina - Sasuke - Tsuyoshi Kaijo - Toha Yamaji

- Tsubasa Ozu - Asuka Kagura - ToQgers
Mecha and Robos
OtomoNin Shinobimaru - OtomoNin Dragomaru - OtomoNin Dumpmaru - OtomoNin Wanmaru - OtomoNin Byunmaru - OtomoNin Paonmaru - OtomoNin UFOmaru - OtomoNin Rodeomaru - Bison King Buggy - OtomoNin Surfermaru - OtomoNin Dinomaru - Sky OtomoNin Lion Ha-Ojo - OtomoNin Hououmaru - OtomoNin Seiryuumaru - OtomoNin Genbumaru - OtomoNin Byakkomaru - OtomoNin Pandamaru - OtomoNin Magoimaru
Shurikenjin - Bison King - King Shurikenjin - Lion Ha-Oh - Ha-Oh Shurikenjin - Gekiatsu Dai-Oh - Ha-Oh Gekiatsu Dai-Oh
Kibaoni Army Corps
Gengetsu Kibaoni
Generals: Kyuemon Izayoi - Raizo Gabi - Masakage Tsugomori - Ariake no Kata - Mangetsu Kibaoni - Juza Yumihari
Yokai: Yokai Kamaitachi - Yokai Kappa - Yokai Kasha - Yokai Tsuchigumo - Yokai Ungaikyo - Yokai Buruburu - Yokai Tengu - Yokai Nekomata - Yokai Oogumo - Yokai Ittan-momen - Yokai Daidarabotchi - Yokai Enraenra - Yokai Yamawarawa - Yokai Yamabiko - Yokai Futakuchi-onna - Yokai Kasabake - Yokai Umibozu - Yokai Otoroshi - Yokai Baku - Yokai Nurikabe - Yokai Yuki-Onna - Western Yokai Franken - Western Yokai Dracula - Yokai Mataneko - Western Yokai Wolf Man - Yokai Mokumokuren - Yokai Amikiri - Yokai Fudagaeshi - Yokai Wanyūdō
Advanced Yokai: Advanced Yokai Nue - Advanced Yokai Konakijiji - Advanced Yokai Oumukade - Advanced Yokai Oboroguruma - Advanced Yokai Binbogami - Super Advanced Yokai Shuten-douji
Ninjas: Speed Ninja Hayabusa - Sugoroku Ninja Ikkakusai - Puppet Ninja Kuroari - Substitution Ninja Mujina - Poison Arrow Ninja Suzumebachi
Footsoldiers: Hitokarage - Jukkarage - Hyakkarage - Giant Yokai Gashadokuro - Genin Supparage
Mecha: Karakuri Kyuubi - Red Kyuubi
Other
Roidmudes:
Heart

- Brain

- Medic

- 089/Doctor D/Shocker Buruburu

- 057

- 016

- 076

Shocker

:
Great Leader of Shocker

- Hiruchameleon

- Turtle Bazooka

- Shocker Combatmen

- Rider Robo

Hyakki Yakou: Dorodoros - Genin Magerappa
View • Talk • Edit