A-Squad's Megazord
Talk

0
9,815pages on
this wiki
The A-Squad used a Megazord against the B-Squad in Power Rangers S.P.D. Prior to this they utilized the Delta Squad Megazord.
The B-Squad eventually destroyed the A-Squad's Megazord in battle with the S.W.A.T. Megazord.
Interestingly, the Megazord actually seems to be Broodwing's drill vehicle during the image of the A-Squad Zord assembling.
Even though the megazord looks Trobian like on the outside, inside is S.P.D. interior.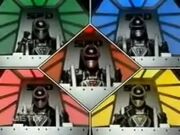 See Also