Ad blocker interference detected!
Wikia is a free-to-use site that makes money from advertising. We have a modified experience for viewers using ad blockers

Wikia is not accessible if you've made further modifications. Remove the custom ad blocker rule(s) and the page will load as expected.
The 
A-Squad
used a
Megazord
against the
B-Squad
in
Power Rangers S.P.D.
Prior to this, they utilized the
Delta Squad Megazord
, which they later destroyed using this evil Megazord.
In response to this defeat, S.P.D. B-Squad utilized their new S.W.A.T. Megazord to destroy the renegade A-Squad's Megazord before imprisoning them in the containment cards.
Interestingly, this Megazord actually seems to be transformed from Broodwing's drilling vehicle during the image of the A-Squad zord assembling and its weapon is a powerful energy blast.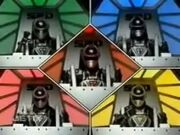 See Also